Fri, Jun 10, 2022 11:00 AM – 12:00 PM EDT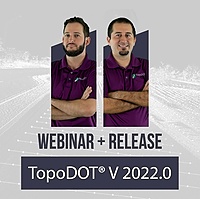 TopoDOT® Version 2022.0 Release Highlights Webinar
In the following presentation you will learn about:
Tools Upgrades :
Redesigned Asset Identification toolset

Enhanced Operability
Machine learning improvements for object recognition
New compact interface with "Manual" and "Auto" mode toggle selection

New GUI for updated tools and settings
Updates to the Element Drape tool

New QA/QC preview of draped line display
Improved surface analysis

Updates to the Feature Export Tool

Level list and Feature Code list display update
Macro building update

Powerlines toolbox

Clearance on multiple selected wires
Convert and detect attachment points

TopoShare

Higher graphical bandwidth
And much more…

We have added new features to make it simpler and faster to extract your LiDAR project data! Please send us any questions you may have ahead of the webinar and extend this webinar invitation to anyone using TopoDOT within your organization!
To download TopoDOT 2022.0, go to the downloads page under the TopoDOT University (login required), or download directly from the TopoDOT tool called "check for updates" under the settings tab.
Please let us know if you have any questions at support@topodot.com.