We are proud to announce the official release of TopoDOT x64 Version 2021.1 for MicroStation CONNECT Update 15+. Please download and install the latest release to stay up to date with our newest developments. Downloads can be found from the link below or at the Downloads page.
Important Notes Regarding Update Compatibility
TopoDOT 2021.1 is compatible with all approved CONNECT products, including Open Roads Designer (ORD) 2021 (Version 10.10.00.81) which runs on Bentley's MS Update 16 engine.
TopoDOT 64-Bit Version 2021.1 for Microstation Connect or similar
We are constantly striving to improve your TopoDOT experience. Many of you will find your comments, suggestions and ideas implemented in some way. TopoDOT represents the collective experience, knowledge, and innovation of all our users. You have in us a place where your comments are heard, your ideas respected, and your innovations implemented whenever possible.
What's New?
There are many new features and tool enhancements in this release. This will not cover the updates pushed in the last beta release. If you would like to learn more about the updates made in the last beta release, please watch the TopoDOT 2021.1 Beta Update Webinar. You can see all changes made throughout all releases on our update log.
Data Management
New smart polygon option added to the Generate Tiles from Path tool! Previously, tiling creation at residential areas with many intersections would create odd shapes around complex sites. With the smart polygon option, tiles are intelligently created around intersecting tiles, resulting in cleaner tile polygons which means less time spent fixing odd shapes! See a short video here.
Another data management update is the option to use Point Source ID in the Random Noise Filter tool. With this new option the tool can identify clusters of data that don't share points between two scan positions (moving targets) so you can easily remove noise from cars, people, noise from rain, etc. See a short video here.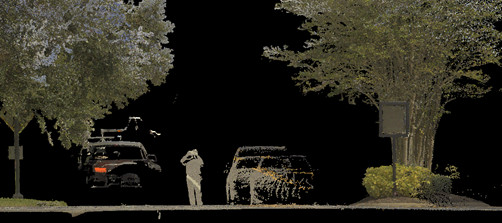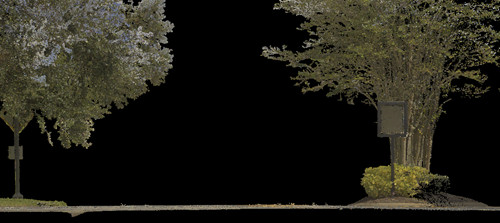 Extraction
The Auto Asset ID and Asset ID tools had an upgrade in their machine learning algorithms to improve the recognition of cells to assets. The Auto Look up Cell option is now more precise at recognizing poles, trees, hydrants, and signs. Sign shapes will also be recognized, for example: a stop sign vs. a yield sign. Top and bottom elevation recognition algorithms have also been improved, along with several other identification routines. See a short video here.
Furthermore, both the Auto Asset ID and Asset ID tools now have the option to place a Survey Point instead of a cell. This is in response to label assets without the need of a cell library. It is particularly useful for exporting assets to AutoCAD/Civil 3D.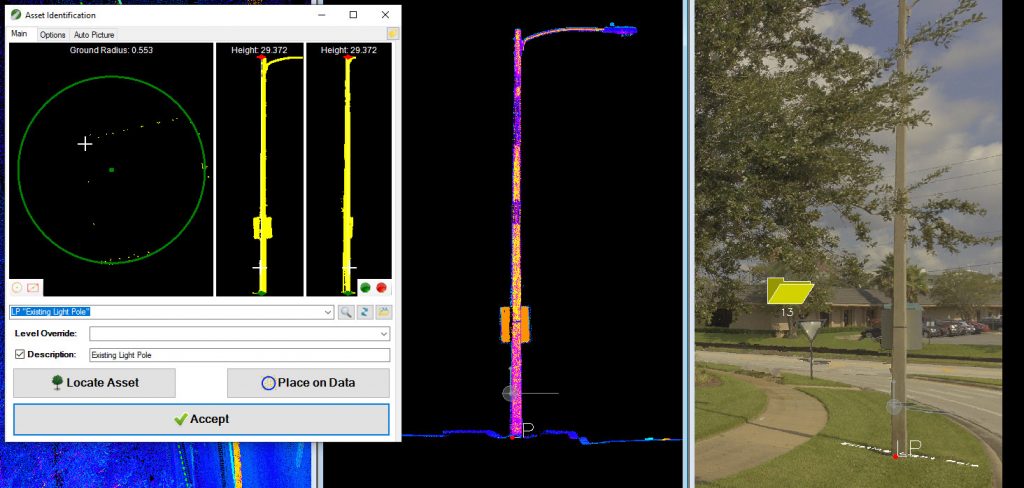 We answer your calls to save tool settings! You can now identify the settings for a tool for a specific feature, save them and open them as needed. For example, you might want to save multiple settings on the Drape Element to Data tool; one for Sidewalks, one for Edge of Pavement, another for Bottom of Ditch, etc. Just click the Function Key F5 to activate the Window Selection dialog. The Saved Windows are saved even when you update TopoDOT.
Analysis
The Road Surface Analysis toolset had a complete overhaul making it more versatile, accurate, and efficient than ever before!
For those not familiar, the Road Surface Analysis tools automatically extract, identify and label the condition analysis of road distress; such as ruts, potholes, swells, heaving, depression and more. It can also allow the user to efficiently label features that cannot be automated for distress types such as cracks, breaks, patching, bleeding, etc. Furthermore, it creates PCI index reports using the ASTM 6433, exports results to GIS software, and provides key surface points to create an optimized surface mesh model.
The new features added to this toolset are: changing distress labels from icons to words, outlining distressed areas, enhanced and improved color coding options, the ability to work in parallel, overhauled workflow, and much more! See a quick video here.
Sign up for the Webinar on this toolset here
New Tool
The new Clearance Zone tool provides a clear area under bridges or tunnels. It creates a shape along a guideline that outlines the boundary wherever it collides with points around the data profile. This not only gives the user a clear picture of the maximum clearance along a path, it also delivers results with little vectorization! See a short video here.
New Product!
The TopoShare Image Viewer is the latest product for clients sharing projects using TopoShare. TopoShare admins will be able to provide a viewer for MicroStation of a project's calibrated imagery to be used to assess the CAD model! This is an added value feature to supplement the TopoShare experience for your customers. If you are not using TopoShare already, contact us to give it a try!
And much more…
TopoAerial – Now takes in a shape selected within the drawing and will place this within the aerial view for pulling in imagery tiles! See a short video here.
Elevation Along Grid – Now you have the option to connect x-section lines (similar to the Road Profile Tool)!
There is an option to adjust image orientation for misaligned images. See a video here.
A new vertex priority option has been added to the Drape to Intersections tool, see a video here.
For a full change log, please visit the wiki
Learn more about these updates on the following recording of this update TopoDOT 2021.1 Webinar!
You can find the powerpoint presentation for the webinar here!
You can also find further information and tutorials in the TopoDOT Wiki-Manual by pressing F1 when the tool is open. 
All changes mentioned above are only available in the 64-bit version. Unfortunately MicroStation V8i is a 32-bit application and limits the development of the tools mentioned here. Please consider upgrading when possible.  
Thank you for being part of the TopoDOT community!