2021 FLUG
Training Forum
October 12, 2021
–
October 15, 2021
EDT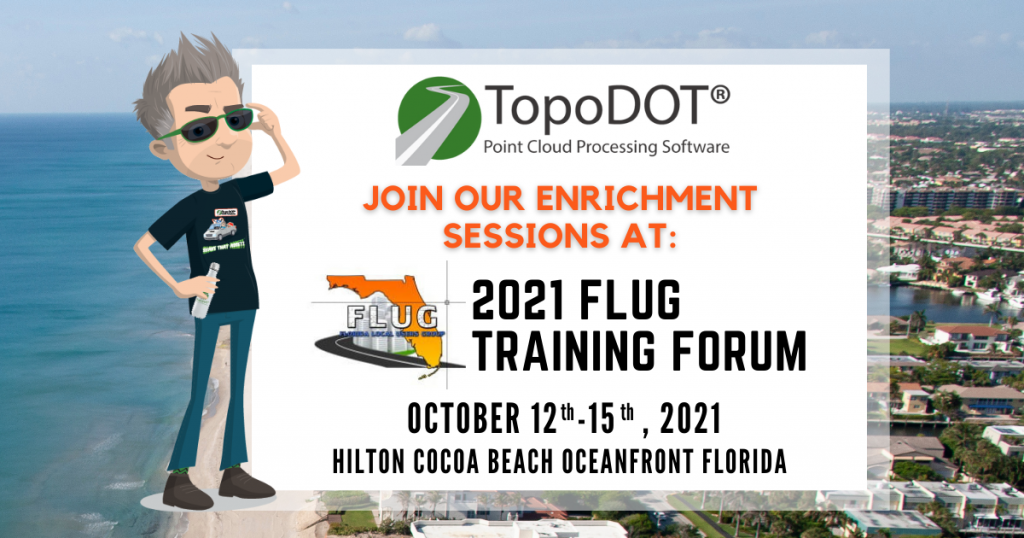 Hands-On Workshop
Tuesday Oct 12 at 1:30 PM
Tips & Tricks for Corridor Feature Extraction using Point-Clouds for TopoDOT Users – By Mike Cook
Description: Learn the latest techniques to improve your corridor feature extraction process. This session is a summary of the recent changes and updates to the Main Extraction tools in TopoDOT® such as the Drape Element to Data, Road Extraction, Extraction by Intensity, Template Extraction and Break-Line Extraction tools. This session is a great opportunity to increase your productivity with a few tips and tricks we have in store for TopoDOT Users
General Sessions:
Wednesday Oct 13 at 11 AM
Using Point-Clouds Beyond Survey – By Mike Cook
Description: Looking to get more of your data past "as built" surveys? Want to get more uses out of LiDAR? Learn about the latest data analysis and monitoring tools available for you in TopoDOT®. The presenters will demonstrate examples of the Speed Advisory tool to analyze speed based on the road curvature, the Wall Monitoring tool to inspect displacement over time on retaining walls, as well as the Road Contrition Analysis to detect and report pavement surface distress and more. Updates on other analysis tools will also be demonstrated. Don't miss the opportunity to discover new ways to expand your business with tools you already own.
General Sessions:
Thusday Oct 14 at 2:45 PM
Leveraging TopoShare for Effective Support of 3D Design/Construction Processes By Mike Cook
Description: As traditional infrastructure design methods migrate from 2D to 3D modeling, this presentation will review a process designed to integrate 3D design models with 3D existing condition models. There will be focus on the challenges in the practical application of the federated model concept with specific attention to the risk and liability associated with the process. In this presentation the presenter will then define the mission of the geospatial team and how it can be effectively integrated within the iTwin process to overcome these shortcomings. Finally we'll look at the new TopoShare™ Geospatial Data Catalogue and how it serves a critical role in the execution of a comprehensive process iTwin process. The presenter will discuss other data storage/sharing/viewer products on the market, present their advantages and shortcoming as well as their role in the overall process. The utility of TopoShare™'s unique ability to effectively communicate every instance of geospatial project data across downstream operations will be introduced. This communication makes possible the documentation and maintenance of quality standards of federated reference models in support of the iTwin centered design process.General Sessions

Friday Oct 15 at 9:45 AM
Friday afternoon – New Efficient Solutions for Distribution Powerline Extraction and Utility Pole Survey By Mike Cook
Cataloguing Electric and Power Corridors for Transmission, Distribution and Substations with LiDAR scanning has become more efficient in the past few years. However, the Electrical Grid is one of the largest machines on earth and there's a lot of information that is often missed or not collected at all. In this presentation we aims to improve the quality of the collection of such information with a combination of Mobile LiDAR data and the right extraction tools and methods. This presentation will explore how to collect and label towers, poles, wires, attachment points, clearances and more. The presenter will emphasize how the implementation of Mobile LIDAR into this type of utility survey will add value to current collection processes and/or improve established workflows by extracting only what's needed, vectorizing poles, wires and attachment points, with a few simple steps; and producing a light-weight 'geolocated' deliverable to then export seamlessly to ArcGIS or to other database platforms. This well-defined process will improve the quality of the information extracted without sacrificing schedules.