NEW YORK STATE ASSOCIATION OF PROFESSIONAL LAND SURVEYORS (NYSAPLS)
January 19, 2022
@
8:00 AM
–
January 20, 2022
@
5:00 PM
EST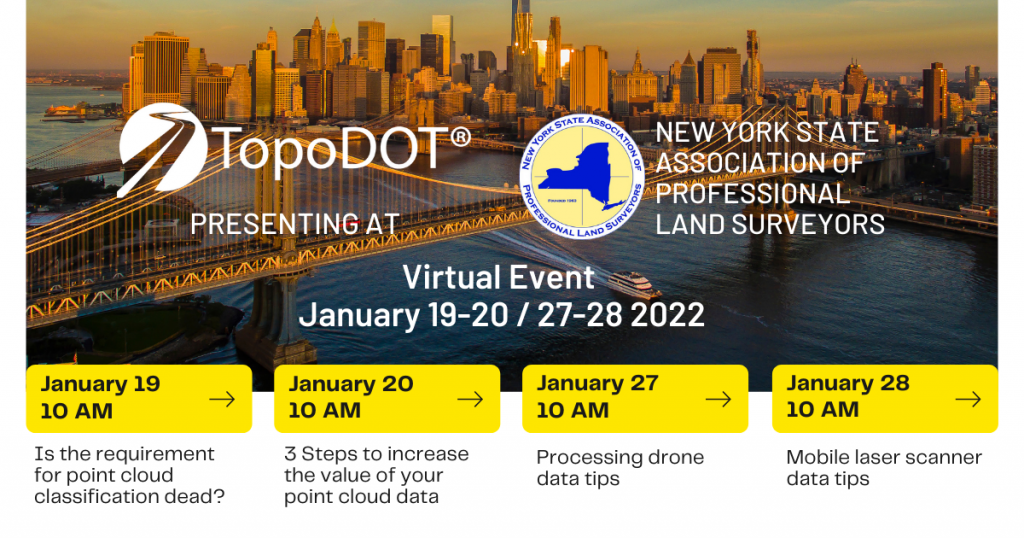 ❇️ We are very excited that TopoDOT will be participating in the NYSAPLS Virtual Conference this week and next week; January 19 – 20, 27 – 28. Please join us at the TopoDOT virtual booth to discuss the latest tools and techniques for point cloud feature extraction to increase your survey productivity.

Dates:
👉🏽 Day 1: January 19-10 AM
Is the requirement for point cloud classification dead?
👉🏽 Day 2: January 20-10 AM
3 Steps to increase the value of your point cloud data
👉🏽 Day 3: January 27-10 AM
Processing drone data tip
👉🏽 Day 4: January 28- 10 AM
Mobile laser scanner data tips

Join our 15 min "value bomb" quick presentations every day of the conference at 10 AM at our booth.
Contact us: