FLUG 2022 Florida Local Users Group
October 11, 2022
@
8:00 AM
–
October 14, 2022
@
5:00 PM
EDT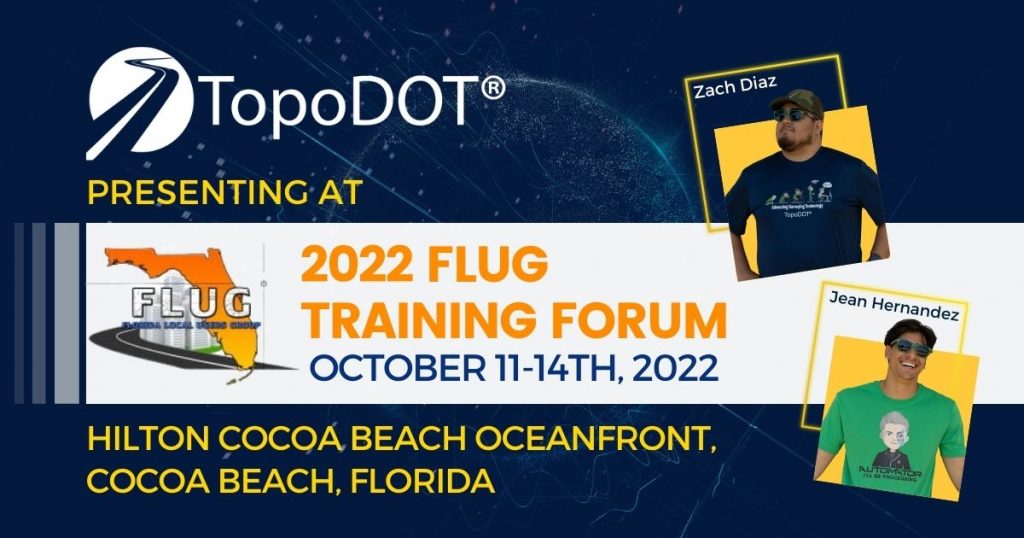 Hands-On Workshop:
Tuesday Oct 11 at 8:30AM – Sandcastle I
Latest features and methods for Feature Extraction using Point-Clouds for TopoDOT Users – By Jean Hernandez
Description: Learn the latest techniques to improve your corridor feature extraction process. This session is a summary of the recent changes and updates to the Main Extraction tools in TopoDOT® such as the Drape Element to Data, Asset Identification, Extraction by Intensity and more. This session is a great opportunity to increase your productivity with a few tips and tricks we have in store for TopoDOT Users. Note: Since this is a TopoDOT users' workshop, it's recommended to have some experience with the software in order to attend.
General Sessions:
Thursday Oct 13 at 11:00AM – Sand Dollar
Data Comparison and Applications of UAS Imagery and LiDAR Systems – By Jean Hernandez
Description: In recent years the geospatial drone market has expanded dramatically. Drone based UAS LiDAR and Imagery systems vast differences make it difficult to choose the right solution. This presentation aims to explore their differences from the point cloud processing aspect. We will examine the pros and cons of each system's dataset for practical survey and mapping applications such as topographies, bare earth, volumetrics, etc. Learn how data accuracy, density, intensity/color and other data characteristics affect a deliverable. We'll also show who to evaluate whether the data meets quality requirements for a certain application, and if it is suitable for automated feature extraction. Examples of automated extraction of break lines, surface models and asset identification will be demonstrated. Additionally, we will discuss the role of drone systems in supplementing other platforms for fusion projects and show some successful case studies.
General Sessions:
Thursday Oct 13 at 1:30 PM – Starfish
Using Point-Clouds Beyond Survey – By Jean Hernandez
Description: Looking to get more out of your data past "as built" surveys? Want to leverage your pointcloud for the design process? Learn about the latest data analysis and monitoring tools available for you in TopoDOT®. The presenters will demonstrate examples of the Speed Advisory tool to analyze speed based on the road curvature, gathering roadway geometry and critical measurements, as well as the Road Condition Analysis to detect and report pavement surface distress and more. Updates on other analysis tools will also be demonstrated. Don't miss the opportunity to discover new ways to expand your business with tools you already own.